Thinking of you all and wishing you a Very Merry Christmas.
We hope you can enjoy this festive season with friends and family despite Covid restrictions.
Just for a wee break away from Mai Tai, we recently spent a few days at this plush Adimulia Hotel in Medan, where they were getting into the spirit of Christmas despite the noticeable lack of tourists. It was a very welcome break even though we did go there on boat business.
We were very impressed to see the strict precautions in place everywhere we went, with hand washing, temperature taking, social distancing and wearing of masks.
Actually, we are still stuck here at anchor in Teluk Dalam, South Nias, a stopover that should have been just a couple of weeks is turning into a couple of months. This is becoming a real test of our patience and endurance. We still do not have our anchor windlass, which was supposed to have been delivered here over 8 weeks ago, held up in customs in Jakarta. More of that saga and engine repair later.
Lane has removed the cylinder head from our engine and has had to order engine parts from the UK, but nothing is straight forward here in this isolated part of the world. With no working engine, we can't go anywhere until these issues are resolved.
Meanwhile, every day we take long walks exploring the back streets and alleys of Teluk Dalam, seeing how the people live. We feel very safe here and although we do wear masks when around others, the town is proud to claim to be Covid-free.
The genuine friendliness of everyone, young and old waving and smiling and for those who know a little English "hello Mista", "where you from?" is ubiquitous. Schools in South Nias have been closed since the Covid lockdown in April, so children are everywhere, playing happily in the streets.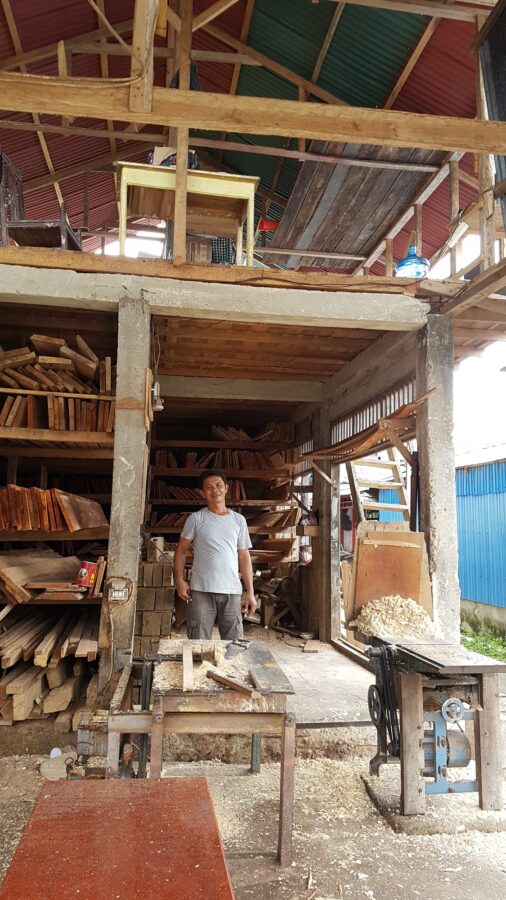 There are still a few traditional houses built in the town and we were fortunate to get invited into the largest one here in Teluk Dalam, the owners being descendants of the royal family.
The house is a replica of the original Royal house in Bawamataluo Village, which is being considered as a protected UNESCO Heritage site. This is where our good friend and guide Nitoranosui (Nitra) is from so we went to visit and meet her family. Before the lockdown many tourists used to come to visit this village and see the famous stone jumpers.
Some days we hire motor bikes to go off visiting other villages and many of the stunning areas around South Nias that very few tourists get to see, thanks to Nitra, who is always keen to show us around her favorite spots.
In many areas the roads are shocking to almost non-existant, but that does not put Nitra off taking us up some very dubious tracks on our rented motor bikes, to see the surrounding countryside.
We must not forget that West Sumatra is world famous for its incredible coastline of fantastic surf that rolls in from the Indian Ocean. The resorts are closed at the moment but would otherwise be buzzing with surfers from all over the world.
I could go on, but while tripping around, Lane is tracking all the parts we need to get Mai Tai back sailing again. So where are we with the engine?
Lane went ahead and ordered a new water pump to replace the one that seized on our way from Tello to Nias, the saga of which we described in our last blog. He also ordered a new heat exchanger from the same supplier. This order arrived promptly from the UK and the water pump was installed. With the new water pump in place, we delighted at hearing the sound of our engine purring away while charging the batteries.
But to our dismay, the engine began to overheat again. So now what??!!??!! Fortunately, we have a temperature gauge installed so we can detect problems before alarms start ringing, so we did not allow the engine to get too hot. We checked coolant and it was very low. More than usual. Also, after it cooled and we tried to start it we found there was water in number 1 cylinder. We emptied the water by removing the injectors again and hand cranking it. Only the one cylinder had water. It seemed like coolant water this time. This looks like a blown Head Gasket!
We removed the heat exchanger and pulled the head off. I did a static water test on the coolant side of the heat exchanger and after two hours there was no loss of coolant. I don't have equipment to pressure test this onboard but this tells me that coolant isn't leaking from the heat exchanger into the cylinders after all.
We packed the head and injectors up in a suitcase and flew to the large city of Medan on the other side of Sumatra where we had arranged with a machine shop to work on the head. They checked and skimmed the head, removed carbon build-up, lapped the valves and cleaned the injectors. They also removed the two glow plugs that broke off inside the head. This was initially the main reason for pulling the head as there is no room in the engine room to drill the broken glow plugs out. I figured if I have to remove the head, I might as well do everything.
Given the above, I am guessing the head gasket was not the initial cause of the overheating. I think that happened during our attempt to find a fix and accidentally pumped water in with the deck wash down pump and then turned the engine over with the start motor. We didn't have coolant in the cylinders until after that episode. Also, when we pulled the head, there was no sign of long term water damage on the cylinders, which would have been easy to spot and I have seen it before. However, we did lose coolant somewhere, which caused the overheating. My guess is that there is a leak in the tube stack that is taking the coolant out with the raw water and exhaust only when the engine is running. If I am right, the new head gasket will fix the problem we caused and the new heat exchanger will fix the older problem, which has become worse over time – a leaking tube stack.
Back in TD, Lane has the un-enviable job of putting the engine back together again. Mai Tai has become a workshop, so leaving Lane in peace, while I have booked into a hotel overlooking the bay and trying to stay chilled at a nearby beach, while I wait for all the greasy and oily stuff to be finished.
We are still waiting for the windlass to arrive – hopefully next week.
We will be in Teluk Dalam for Christmas. There will be lots of parades and fireworks for local celebrations.
We have extended our visas in Indonesia just in case we need more time to install the windlass when it arrives..
We wish you all a very happy Christmas and now wishing every one positive thoughts for 2021 sort of takes on another meaning.
Stay safe. Happy holidays.