It has been exactly a year now since we sailed out of New Zealand on Mai Tai, heading off on our adventure to sail around the world.
So far, after 6099nms (14000 kms approx.) we have only got as far as Malaysia, which means we have made it about a quarter of the way around. We also realised that this area is so vast that it deserves another year of exploring. So, here we are, back in Indonesia to visit the western group of Islands in the South China Sea before continuing to Sarawak (one of the states of Malaysia in Western Borneo). Borneo is the third largest island in the world. The rain forest used to be the largest in the world, but now 50% has been replanted in Palm Oil, so now lags behind in 3rd place after Amazon and Equitorial Africa. The forest here is 130 million years old, twice as old as the Amazon Forest.
While waiting for the monsoon season to pass we parked Mai Tai at Sebana Cove Marina, which is near Singapore. With Mai Tai safely tucked away in the marina we were able to take land trips to visit family in the USA, Australia, NZ and explore parts of China and Malaysia.
We are now back on board and beginning the next part of our journey, which will take us across the South China Sea, and around the top of Borneo. As we will be going to some pretty remote islands, we decided to join a rally called the Malaysia East Rally along with about 30 other yachts. This helps facilitate our customs, immigration, quarantine and visa formalities which can be quite complicated were we to try to enter here on our own. Also they are a fun bunch of long-term cruisers of many nationalities.
Sebana Cove to Tioman Island
Before leaving we had to refill our propane gas bottles and top up our diesel tanks, by whatever means we find available. Even in these remote places cruisers will always find a way.
Everything on board Mai Tai is ready to go apart from replenishing food supplies. It will probably be 2 months before we find another supermarket (even the super markets are not much more than a good 4 Square shop back home) so we stocked up with as much as we could find. Most villages we will visit along the way will have fresh fruit and vegetables of some sort, to top up on our supplies, but we are left dreaming and drooling over the hope of finding tomatoes, avocadoes, crisp green salads, courgettes, basil and fresh herbs. And cheese! Sometimes we get lucky, but we become very creative with our potatoes, pumpkins, cabbage, onions and unidentifiable greens. Thank goodness tropical fruit is plentiful.
It was a perfectly still morning when we set off down the river for 6 miles to the Straits of Singapore. There we turned left, zig zagged our way through huge drilling platforms, oil tankers, tug boats that litter this Malaysian coastline where a huge oil and gas storage terminal is situated.
Our first destination with the rally is at Tioman Island, 118 nms away, but we decided to take 3 days to get there, with 2 anchorages along the way.
The first night, we chose a roadstead anchorage. It was a bit rolly but we decided it would be fine for the night. Or so we thought!!!! Around 0300hrs the winds came up. And up, and up until a full 40 knot gale was blowing us towards the shore, with unbelievable thunder and lightening to go with it. And, of course, a building sea. But, by sunrise, the wind and sea had calmed down so we were able to enjoy the next 30 miles to our next anchorage, with no wind, and motoring all the way!! Such contrasts. Unfortunately, several of the other yachts in the Rally weren't that lucky and sustained damage to sails and awnings.
Over the next couple of months, we came to expect these sudden squalls, at any time of day, when the God of thunder announces his arrival with the blackest of skies, lightening forks flashing to the sea, before the heavens open. But his tantrum doesn't last, and all is calm after only an hour or 2. It is the lightening we fear the most, with our tall metallic mast adorned with antennas reaching skywards. Some of our rally boats have been caught unawares out at sea and have turned up with broken rigging and torn sails. Some with lightening strikes. Not only is it dangerous, but getting repairs in this part of the world is very difficult. We do our best to help each other amongst the cruising fleet, which is reassuring and an advantage of cruising in company of other yachties in these regions.
Tioman
Tekek is the main town in Tioman, which is a high, densely- wooded island, 50 nautical miles off the east coast of Malaysia. It is governed by Malaysia and its main attraction is diving and snorkelling.
Several other rally boats were already at anchor when we arrived, so we were soon partying or meeting up for dinner ashore. It is so cheap to eat out, it almost doesn't pay to cook on board. Being a Muslim country, no alcohol is served at the cafes and restaurants, but there are duty free shops, often attached to the restaurant so you can BYO.
The snorkelling right near our anchorage was pretty amazing with crystal clear water and brightly coloured coral along with reef fish, small reef sharks, and turtles. We have to be very careful about where we anchor so as not to damage the coral.
This is the season for the female turtles to come ashore to lay their eggs, so, in the morning we can see the tracks left in the soft sand, up to where the eggs have been laid and buried. Staff from a local turtle hatchery wait up at night, watching for the turtles (using red lights so the light doesn't disturb the turtle), then after she is done laying, they dig up the eggs to transfer them very carefully to a newly dug hole, under shade in their hatchery. This way, when the eggs hatch and the baby turtles make a dash for the sea, some of the natural hazards have been eliminated, ensuring a better survival rate. Unfortunately, outside the protected areas, it is impossible to monitor the nests, and the local people can come down to take the eggs for consumption. Apparently, a delicacy.
A hike up through the forest to a waterfall and swim in the cool mountain stream had been arranged for those of us who wished to join in. It was a 2 hr hike up a steep but well-formed path to the waterfall so we could enjoy the sounds and smells of the forest. Apparently, there are snakes and monkeys here, but we saw none. It is so difficult to get any respite from the intense and constant tropical heat, that a swim in the cool fresh water was a real treat. Ahh to feel the cold. Delicious. Even the sea water is like bath water.
The local people are so hospitable, and love to have fun so we often find ourselves competing in all sorts of silly events on their games day, teams of cruisers against the locals. Egg and spoon race, throwing water filled balloons, dancing with balloons between noses, running with a coconut between your thighs, and tug of war. It usually turns out to be a lot of fun.
We had to do our customs clearance out of Malaysia here, as we will be entering Indonesian waters on our next island stopover which will be the Anambas Islands, 120 miles away.
Anambas Islands
We had a very pleasant overnight sail to our first anchorage. On approaching the islands, we are on the lookout for cell phone towers. Whenever a tower comes into view, we send WhatsApp messages to the family, so we were never off the grid for more than a few days. Amazing really, connecting with the world, from our yacht out in the middle of nowhere!
We have a 30 day visitors visa for the Anambas Islands and Natuna Island so we can't wait to see for ourselves what everyone raves about. After checking in with customs in the main town of Tarempa, and attending our welcome ceremony, we had 3 weeks to explore many of the island's beautiful bays, snorkelling and swimming in this remote paradise. So remote, there is very little tourism here, and visiting yachts have only been allowed to visit since 2015.
There are 255 islands in the Anambas Islands Regency, only 25 of which are inhabited by 45,000 inhabitants. The majority are Muslim, and every village, no matter how small has at least 2 mosques and the call to prayer echoes through the bay several times a day.
Because the terrain is so rocky, the villages are built on stilts around the shoreline and it was surprising to see the variety of homes perched out on precarious stilt foundations. Some very substantial, built amongst simple rickety wooden structures. Despite the outward shabby, run down appearance of these houses, looking through the open doors and windows, the houses look clean and tidy, and the people clean and well dressed. They are so warm, friendly and welcoming, all wanting to take lots of selfie pictures on their cell phones. However, what was very disappointing were the piles of plastic rubbish around the houses and lining the beaches and shoreline. It is really disheartening. We have watched people just throwing bags of trash into the ocean. Unfortunately, all the beaches on the leeward side of the islands are strewn with mountains of rubbish!!!
But away from the villages, we are dazzled by the colour and clarity of the water. At our first anchorage, as soon as we dropped the anchor in front of a stunning white sandy beach, it seemed we were suspended with nothing between us and the sandy sea bed. We could see that the anchor had dug in and the chain lying as it should along the sand. So clear was the water, it was shimmering turquoise blue and just seemed to embrace us as we jumped in. The islands are volcanic, made up of huge granite boulders extending out into the sea, beautiful white sandy beaches. We spent 3 weeks going from one stunning anchorage to another, visiting remote villages, climbing rocks ashore when we could and snorkelling around the beautiful coral reefs.
Mai Tai aground!! There are coral reefs everywhere making navigation in these shallow waters very tricky. Even with the clarity of the water, unmarked channels between reefs are often difficult to see, and we ended up driving Mai Tai up onto a big coral head. Some friends came to try to tow us off but Mai Tai would not budge. As it happened, luckily it was 10 minutes before low tide when we hit, so we only had to wait for a little over an hour for the tide to come in to lift us free. We were lucky with the tides. Our chart plotter had us right in the middle of the channel so it's a reminder of the importance of a bow watch and approaching these areas with the sun behind us.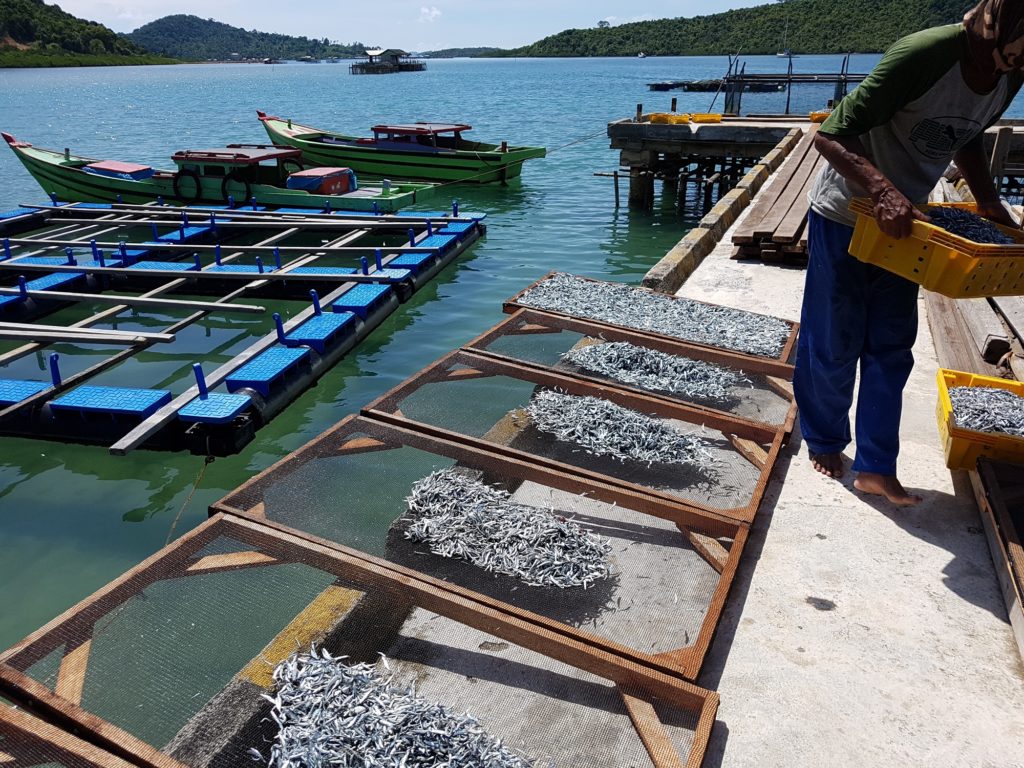 People imagine us catching and eating fresh fish every day, but the reef fish here, although plentiful, are too small, and the bigger fish for spearing are few and out in deeper waters. Also, we used to be able to troll for fish between anchorages, but none of us have had much success. These people live off fish to eat and to trade, and it makes us wonder how much longer the oceans can support such intense fishing.
After 3 wonderful weeks here, our next stop is Natuna Island, another Indonesian Island 120 miles away.