Life continues on Barogang, Indonesia
If anyone had even suggested we would be here on this remote island for more than 4 to 5 weeks, we would have questioned their sanity. But we have formed a close-knit group here, helping each other in various ways and managing to stay sane and mostly having fun.
We mentioned in our last blog about forming the Barogang Yacht Club and different interest groups. We also make sure no birthdays or wedding anniversaries slip by. Any excuse for a cake and drink together.
I was wondering what on earth I was going to write in this blog, since we have been nowhere and done nothing exciting. So let's look back over the past few weeks.
There is nothing stopping us from leaving here to find other anchorages but most places will not let us go ashore. Until we know about the Covid status and that we can go safely, exploring ashore, we prefer to stay here – safe to go for walks and swim in beautiful clean water.
A couple of our group did leave for a week to circumnavigate the large island of Tanahbala, next to us. During their trip they did go ashore once, to walk along a beautiful deserted beach. Once they were ashore a couple of locals came chasing after them demanding $10 each for the privilege of walking on their island. As soon as they had handed over the money, the 2 local boys got physically aggressive and made them leave their island, shouting "go away, tourists, Corona, go away". This attitude is so unlike what we have experienced before the Covid scare, anywhere in Indonesia.
Our friends dropped anchor in another bay where they had been warned about crocodiles, but no-one claimed to have seen any, so thought nothing of taking a quick dip to cool off. However, one night they were awakened by a noise in the water close by. Their torchlight revealed a 3-metre crocodile plus a large sea snake right under the boat. Yikes. No swimming there anymore. Another reason to stay put here with our dolphins and turtles.
There is no cell tower nearby, so for our first few weeks we used to sail up to the nearest village, 16nms away, anchor right in front of their tower, to catch up on family and world news. However we discovered that right here in our bay, by sending one of our phones or tablets up to the top of the mast as a hot spot, we could receive a reasonable signal, thus avoiding our weekly trips to Telos village.
For a while we quite liked being out of touch with the depressing world news, but now we are enjoying being connected whenever we choose.
Our weekly food delivery continues, but last week we got a lovely surprise. Our supplier came down from Telos on the boat, bringing with him 2 big boxes, with fresh donuts in one and a carton of Magnum Ice creams in the other as a gift. We were like a bunch of deprived kids demolishing all these treats in one go!!! Eating ice creams on our beach on Barogang felt so civilised. Amazing the pleasure such simple things can bring.
The day after this treat, we learnt that one of the young men from a fishing family living 4 miles further down the coast, didn't come home that night from fishing out on the reef. All of the local villagers were out scanning the beach in search of him, but the surf was rough, and if he had been knocked over into the sea, there was very little hope of finding him alive. The group of scuba divers amongst us spent the next 2 days doing an underwater search all along the reef in both directions, while others joined the locals searching the beach. Very sad, the young 20yr old was never found, but it seems there are many fishing and boating accidents in this part of the world.
The young fellow who drowned was the younger brother of our island caretaker, Jasman, who also comes from this village. There are only a few houses, and a church for the small population who are all Christian. There are no roads to it, which makes it very isolated. Our group have been donating some food items to the village since much of their income has been based on tourism. Normally, the fish they catch goes to surf resorts and restaurants in the larger villages but covid 19 has shut all of that off. They really appreciate our little bit of help. Also, some of our guys have been repairing their outboard engines while teaching them how to look after and maintain them once we have gone.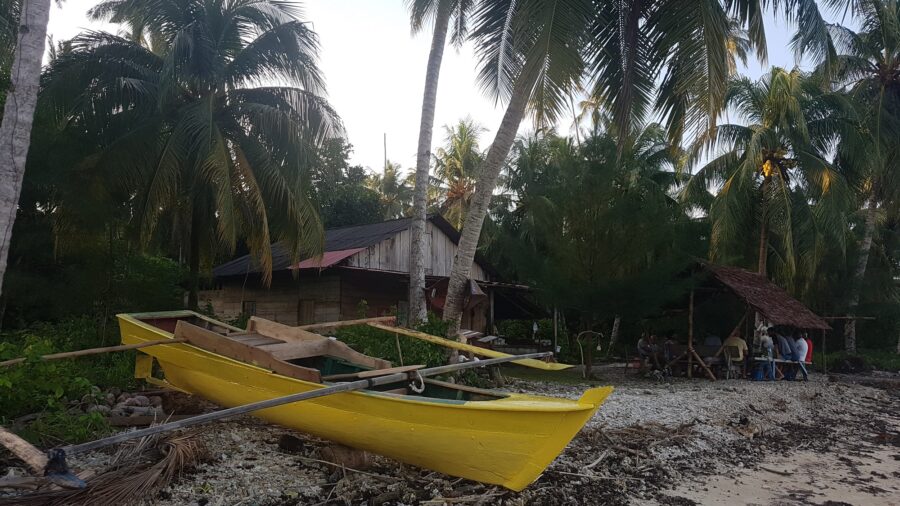 From our anchorage we look out at dense tropical forest sprawling past the beaches and covering the hills. There are a couple of huts behind one beach on the adjacent larger island of Tanahbala, a broken wharf and some rusty old trucks on the shore in complete ruin. However, we hadn't been invited to go ashore there until last week. A local fisherman and his family live here on their own. They said we could walk on their beach and follow the road up into the hills.
Leaving our boats at anchor, our Barogang group took our dinghies ashore, donned our hiking gear and went on an excursion into the forest. We soon discovered hill-climbing muscles that we hadn't used in a long time. The old road had been washed out years ago, possibly when the bridge collapsed, stranding much heavy logging equipment down by the wharf. With the recent rains, the road was very muddy but it was such a treat to be able to hike through trees, then look back down over the anchorage from the top of the hill. We hiked for about 3 hours before heading back to our dinghies.
There is still a big logging industry here on the island of Tanahbala, but the roads and wharf all lead from another bay ten miles further to the south. The area where we are is not passable by vehicle due to the washed out bridges and roads.
We still try to get in regular walks along the beach, sometimes with some body surfing along the way if the sea is not too rough. We can see why this coastline on the eastern fringes of the Indian Ocean, is so popular with surfers from all over the world.
The latest news is that Malaysia will open its borders for visiting yachts at the end of August. This is good news but could also change. The prevailing winds are now blowing from the south west, so although it is a good time to sail back to Malaysia and Thailand, it is the rainy season there until the end of September.
We are all getting anxious to set sail again, but conditions have to be right. We are all surprised at how quickly time is passing.
The government officials are collecting our passports this week to issue visa extensions, so we can stay legally in Indonesia for as long as we need. They really are looking after us as long as we stay here.
They will let us know when it will be safe to visit places on shore, but we will respect social distancing and wear masks.