Since sailing into Sebana Cove in Malaysia back in November, we have been busy doing all those things that cruisers do between seasons. Monsoons, adverse winds, cyclones and rainy seasons tend to dictate our cruising agenda. We like to use this time for boat maintenance projects, travelling to visit family and of course, some local land-based tourism.

The marinas and haul out yards throughout S E Asia are full of other cruisers just like us, coming and going, sharing their stories and plans at the end of each day, over sundowners on the dock. After chatting with some of the cruisers staying at Sebana Cove, cruisers who have been around this area for several years, we were easily convinced to stay another season in this region, before taking on the Indian Ocean and the Red Sea as we had originally planned. There is still so much to see here before moving on. So, in April, we will join the Malaysia East Rally to cruise the South China Sea, over as far as Sarawak in Northern Borneo, Brunei and then back this way in October.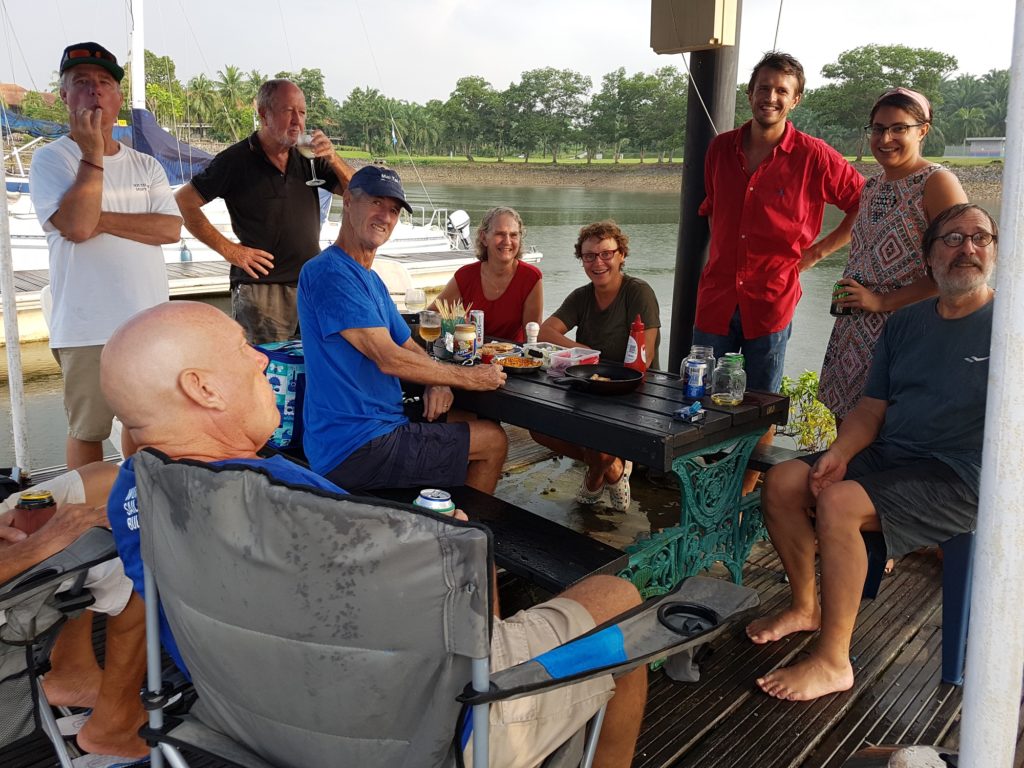 So, what have we been busy doing?
Southern California
In November 2018, we flew to The USA for Lane's mum's 99th birthday. She is doing well in her rest home, (which she calls her hotel), reads the LA times every morning and looks forward to her regular meals. We always catch up with Lane's old mates and their wives and this year we visited the Paul Getty Museum and Art Gallery. This has been on my bucket list for a long time but the drive getting there and back on the LA freeways has always put me off from going. This year, good friends, Keith and Gloria were also keen to go and offered to drive. Despite the 2hrs up and 3 hrs drive back in LA traffic, the experience was unbelievable and so worth it. Apart from the stunning architecture and gardens, there are both permanent and temporary exhibitions to marvel at. Two that I particularly enjoyed were the16th century European tapestries and furniture, and the Renaissance Nudes series.
Back at Sebana Cove for the Holidays
Christmas in the tropics, without family, is interesting but we had a fun time with our cruising family at the functions hosted by the Resort. We loved the wooden snowmen.
Sebana Cove Resort and Marina is situated 5 miles up a jungle river, just 20 miles from Singapore as the crow flies, but it is considerably further when we have to take taxis, buses and ferries in and out of here. We see every trip as an adventure and have had a lot of fun exploring, Singapore, Melaka and Kuala Lumpur on different trips knowing that Mai Tai is at such a safe Marina.
Singapore
This huge metropolis a pleasant, clean and efficient city with all sorts of interesting things to do, to visit and to eat. It is not a cheap place to visit but we did lots of the touristy things which have all been fun and worthwhile.
Melaka
This old city of Melaka achieved Unesco World Heritage status 10 years ago. Melaka lies 5nms up a river that runs from the Malacca Straits, a narrow channel through which ancient trading vessels used to pass. This city was the maritime trading centre of the East, trading exotic goods brought over from Europe and the Middle East in exchange for Far Eastern treasures like gold, silks, herbs, spices, and other valuable commodities sought after in Europe.
For centuries, dating back to the sultans, wars have been fought over this strategic port. The Chinese had been sailing here for centuries, but in the 1500s the Portuguese sailed in, took the local people as slaves, built a fortress and ruled until the Dutch arrived in the early 1600s. The Dutch then captured the city leaving their mark with very typical Dutch architecture and churches. Over the centuries that followed more conquering ships arrived, including the British, the Japanese, and other peoples overland from the north.
Today, evidence of these all different cultures remains and offer a fascinating array of multicultural, religious, architectural, and gastronomic influences, mixed with the modern café culture along the banks of the river.
We found shark fins and live frogs available in some restaurants.
Kuala Lumpur
We decided to spend a few days visiting this busy city before flying out to Australia.
We admired the architecture of the Petronas Towers and many of the spectacular high rise buildings in downtown KL from the open deck of a city bus tour, but we chose to keep clear of the bustling streets and sprawling shopping centres, choosing to spend time in the 10 hectare Tropical Rainforest and canopy walkways, which you access from the foot of the Menara KL Tower, right in the heart of the city. This is one of the oldest protected jungles in Malaysia.
A visit to the Batu Caves, on the outskirts of the city, was also on our agenda. A series of 3 caves with Hindu Temples and Shrines, an impressive 42.7 metre golden statue guarding the entrance, were all very impressive, but the presence of souvenir stalls everywhere, even inside the sacred caves, took away from the sacredness of the site.
Visiting family in Australia
My two brothers have made Australia their home, and I felt it was high time to go visit them and their beautiful growing families. We keep hearing about all these cheap flights leaving from Singapore and Kuala Lumpur so we decided to give them a try. We were flying Malindo Air, Tiger Air, Jetstar and Virgin Airlines.
We started by taking the budget way to get from our marina to Kuala Lumpur, 8 hrs in a series of buses. The Intercity buses were very comfortable, on schedule and very cheap. So far so good!
Over the next 3 weeks of the 5 flights we took from KL, to Bali, Brisbane, Melbourne and back to Singapore, we had 2 flight cancellations, 2 delayed flights, resulting in missed connecting flights and our ferry back from Singapore. We spent a lot of time in airports, including 10hrs at Denpasar in Bali. Well, there could be worse places to hang out. It must be said that costs of all the rescheduled flights and airport bar tabs were covered by the airlines.
Who needs to go to sea for a series of adventures?
Our time in Australia with my 2 brothers, their families and some very good friends was everything we wanted. Just hanging out and spending precious time together with Paul and Susi in Toowoomba, David and Tricia in Melbourne, Joan and Claude in Noosa, my old primary school friend Claire, and all my nieces and nephews. It was a very special time.
We are now back on board Mai Tai preparing one more exciting trip to China before setting sail again in April.