March 2022
We have finally made it to the Suez Canal. So happy to be here and at present moored at the Ismailia Yacht Club, which is half way along the Canal between Port Suez and Port Said. Port Said is where we exit to the Mediterranean Sea. It is really lovely here, spotlessly clean with friendly people, restaurant, hot showers and even a laundry, plus copious amounts of fresh water to wash everything down. That may not sound great, but believe me, when you have been sailing up the Red Sea for a few months with sandstorms blowing all around and leaving thick deposits of fine sand EVERYWHERE, fresh water from the dock is the equivalent of heaven.
We are free to enjoy all the yacht club amenities but are not allowed to go exploring any further. That is because we have checked out of Egypt in Port Ghalib, which in itself, resulted in a whole new adventure.
Let's go back to Port Ghalib to explain.
In our last blog we explained how the authorities insisted that we renew our visas in order to leave the country!! So, we took a trip to the Immigration Office in Hurghada to apply for a visa extension, and that is the trip where we got stranded in the Desert with a flat tyre.
Ten days later, we take another trip to Hurghada to pick up our visas, so we could apply again for our exit papers out of Egypt. With new visas in hand we reapplied, which normally should take 3 to 5 working days. It just so happened that a favorable weather window presented itself for about then, so we were happy. We have tried to see some positive aspects about having to hang out here a bit longer so we took the opportunity to stay a few days in Hurghada and visit the marina, full of luxury dive charter boats.
Back in Port Ghalib, we restocked the pantry yet again with fresh food and were ready to go.  We waited and waited until 5 days went by, with our agent saying "tomorrow, guarantee tomorrow".   Three more "tomorrows" went by with no explanation as to what the problem was or why we were being held "hostage".   After 8 days of waiting, we were "over it" so we contacted the New Zealand Embassy in Cairo explaining our situation, to see if they could help us. How reassuring it was to hear a lovely Kiwi accent on the line saying, "don't worry, leave it up to us". The whole team in Cairo set to work and within 24 hrs we got our clearance to leave. No explanation was given, but the Navy told us we had to be out of the Port in 24hrs, regardless of the weather.   By then we had missed the good weather window, but we knew of a safe anchorage just 10 miles up the coast so we were happy just to get there and wait for good weather to continue. Ras Toronbi turned out to be a lovely anchorage, tucked in behind a long tongue of coral, sheltered from any sea swell, but not the wind. Coral patches were not far off our stern while at anchor, but we felt secure with good holding for our anchor. We hoped!
We still had 300 miles to go to get to Port Suez. The chances of getting a 3-day break in the strong northerlies was slim, so we had several places marked on our chart where we could take refuge if needed. It took us 3 overnight passages over 10 days to get to Port Suez and we were very pleased that we had been patient, always waiting for the right conditions to move each time.
The first stop was at Soma Bay, near Port Safaga, where we waited for three days as 25 to 30 knot winds blew through. Soma Bay is a well-known tourist destination for kite surfers and wind surfers, and there were many out loving these stormy conditions. The Resorts on shore were very similar to those at Port Ghalib with a line-up of dive boats for those preferring to go diving.
The next overnight sail took us to El Tur in the Gulf of Suez, a fishing town situated on the Sinai Peninsula.  This was another well protected anchorage where we spent 3 nights waiting for the next break, when we would hopefully make it all the way to Port Suez.
There is a large military base and airfield here and we enjoyed watching the brightly coloured fishing boats coming and going. The fishermen were very friendly waving and shouting as they came past us.
The hills of the Sinai Desert that line the Gulf of Suez were barely visible through the dense haze, but when they did clear, the sun created an ever- changing panorama of shadows in the tall dunes dropping into the sea.
The Gulf of Suez which is only about 15 miles wide has a huge amount of traffic, particularly all the shipping traffic, heading north and south, to and from the Suez Canal. These ships stay in their designated shipping lanes which we stay clear of, unless we have to cross from one side to the other. This we do very carefully, using the AIS positions on our chart plotter and making sure we stay clear of the paths of these ships travelling between 10 and 12 knots in both directions.
Then, on either side of the shipping lanes, we have to watch out for the fishing boats, which do not have AIS but are easily visible with all their lights on deck as most of these boats are fishing for squid. A constant lookout is essential and we sometimes have to change course to pass between them.
I was surprised to see large areas of oil platforms. These are well marked on the charts, but we can never relax when navigating around them with all their support vessels coming and going.
Our third break allowed us to sail all the way from El Tur to Port Suez. Even on these short passages, the weather forecast can never be relied upon and the wind can rise suddenly from 5 knots to 25 knots, lasting a few hours or so, or more, but enough to create a nasty steep chop which is invariably "on the nose", cutting our speed, at times, down to 2 knots. In these conditions, we have to have a plan B anchorage in mind, just in case we can't make our next planned anchorage before nightfall.
We were very lucky with the weather on this last leg and we saw the silhouette of Port Suez on the horizon around 0900. It was glassy calm and many ships lay at anchor outside the Canal entrance. We called on VHF, to announce our arrival and we were soon given permission to proceed to the Port Suez Yacht Club where we were greeted by our Canal Agent, Captain Heebi who had everything well organised and told us we would be able to do the first part of the Canal the next morning morning at 0600hrs.
Captain Heebi has been so much more than just our Suez agent. He has been our advisor and friend all the way up the Red Sea. The Red Sea has been a challenge in so many ways, but it is now behind us and it was really lovely to be greeted by warmth, smiles and a huge tiramisu each.
The Suez Canal
I didn't really know what to expect, and knew that it was not at all like the Panama Canal that we sailed through in 1990. There, I remember being amazed at the engineering of such a canal (51 nms) with the huge locks, 6 in total, in constant use since its opening in 1914.
The Suez Canal, which connects the Mediterranean Sea to the Indian Ocean via the Red Sea, is 90nms long and has no locks. It took 10 years to complete and was first opened in 1869. It is basically a big trench dug out of the desert sands with embankments on either side. It is all sand except for a few date palms which grow sporadically along the banks.
Every boat, large and small, has to have a Suez Canal Pilot on board for the crossing, so as soon as ours was on board at 0600, we were off.  We began to merge in between the huge container ships that were already underway from the anchorage outside the port.  We felt dwarfed by these monsters (laden with thousands of containers up on deck) but there is enough room for everyone, and before long we would be overtaken by these huge ships. As long as we kept to the left hand side of the canal we were out of harm's way. We had the current with us, so were often scooting along at 7.5 knots.
There is a second Canal built alongside a part of the existing one, but there is just a man-made bank of sand separating the North and south bound lanes.
It was a surprise to see a city on the horizon as we turned the last corner.  It was Ismailia, a city of nearly 400,000, which grew up at the same time as the Suez Canal and housed the workers during the years the canal was being dug. The commercial ships go through to Port Said in one day, whereas smaller vessels, like us, must stop half way along at Ismailia to continue the passage another day. This is very important as it allows us to wait here for good weather in the Med before making the last leg to Port Said.
This is where we are at the moment, tied up in front of the Ismailia Yacht Club after 7 hours of motoring from Port Suez.
Two days after we arrived, we were very excited to see 3 other cruising yachts come in to join us.
More cruisers meeting up always leads to dinners out and on board, sharing stories and experiences. This is what we love about this lifestyle.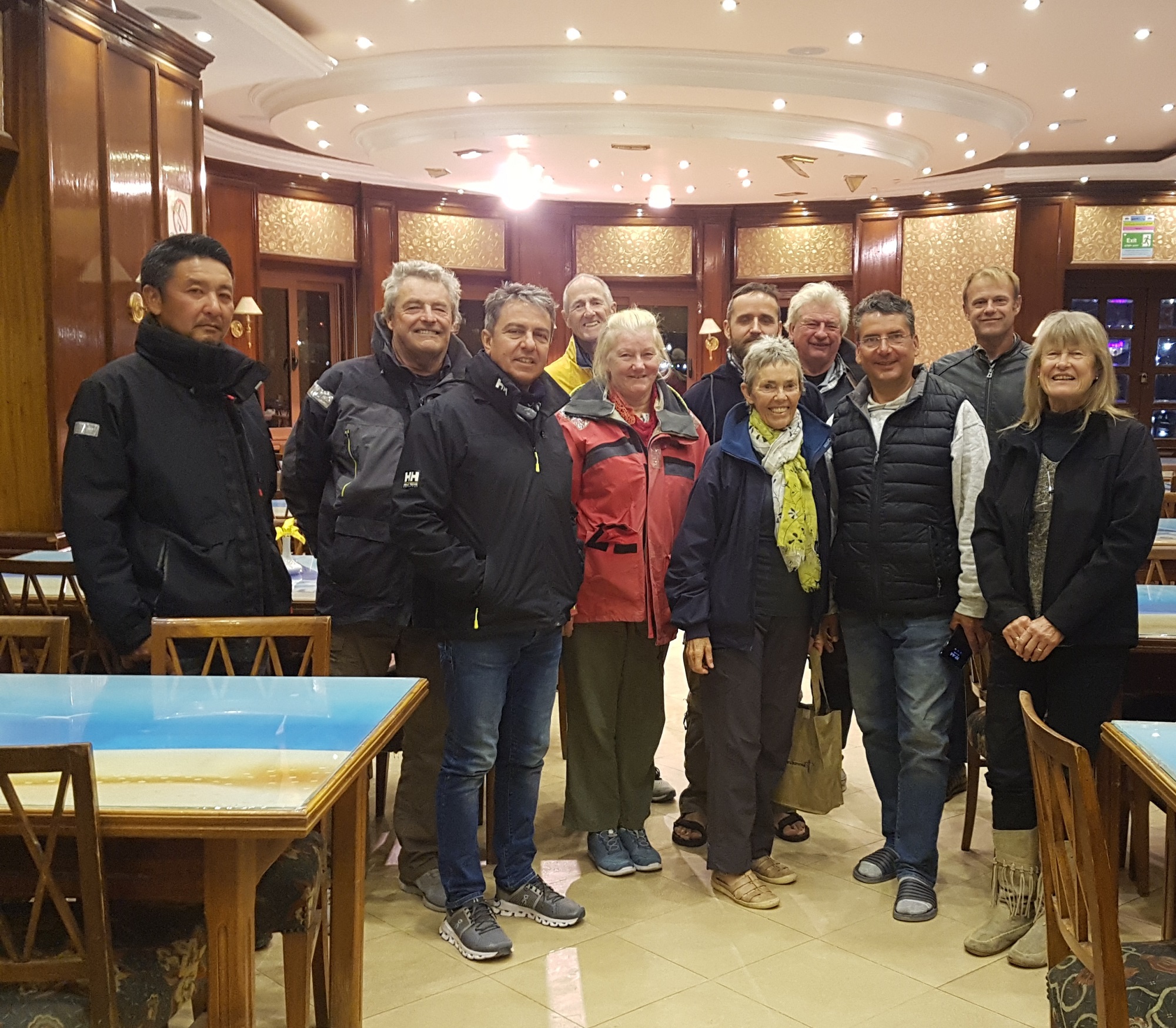 We are all watching the weather in the Med to decide on the best time to leave Ismailia. After completing the second part of the canal, we will enter the Med with nowhere to stop, so we must set sail and continue on to our next destination. For us that will be Turkey or Greece.