It is already February and we had hoped to be in the Mediterranean by now!!
That was the plan when we left Kenya last September, to be in Turkey for Christmas, safely tucked away in a marina, where we could weather out the freezing cold Mediterranean winter. It seems there have been a lot of nasty storms this year, so maybe we should be thankful to still be in the Red Sea.
Engine problems held us up in Oman for the month of October, which ended up being a thoroughly enjoyable time, although unexpected. But we still had a long way to go to get to the Suez Canal and into the Med before the worst of winter set in.
By the time we had spent some time in Djibouti and enjoyed a month cruising the coast of Sudan, it was New Year's Eve, 2021 when we finally sailed in to Egypt, at Port Ghalib.
Several cruising friends had advised us to sail straight through from Sudan to Port Suez without checking in to Port Ghalib but there are many hours of motoring ahead of us that we thought it wise to top up our fuel before continuing. This would probably be our last opportunity to buy diesel until we arrive in Turkey.  Also, I had always wanted to visit the Valley of the Kings and Luxor, on the Nile.  So we decided this would be the perfect opportunity, as Port Ghalib is considered a safe place to leave your boat while taking a trip inland.
We never tire of watching the dolphins as they play in our wake. Here they are welcoming us into Egypt, at Port Ghalib.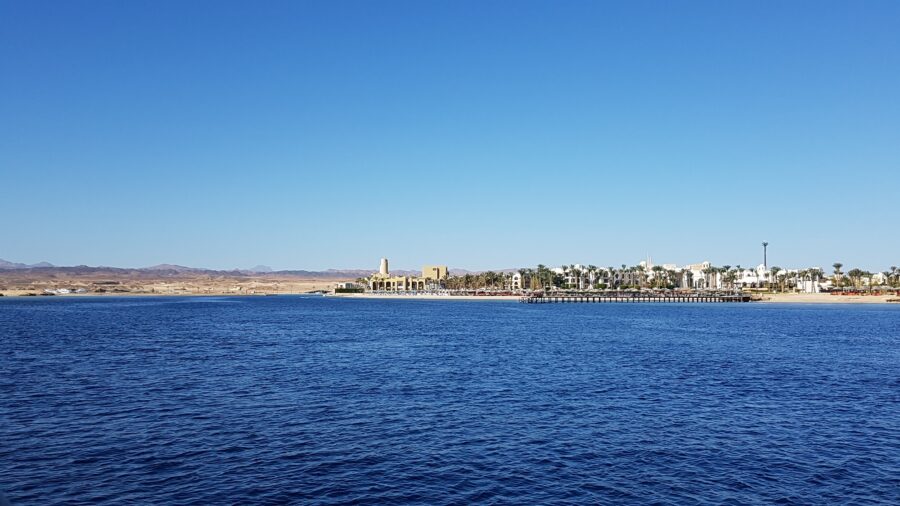 As the sun came up on our third day at sea a pod of dolphins welcomed us to the entrance of Port Ghalib.  From a short distance away, the shoreline looked quite civilised with many fancy hotels lining the shoreline.  This was such a contrast to what we had been seeing for the past month in Sudan and we were looking forward to a taste of civilization to welcome in the New Year.
We were welcomed in to the Customs arrival dock at 0900hrs and we handed in all our usual boat documents to Customs and Immigration officials. The Quarantine officer took a look at our Covid Vaccination certificate but was more concerned about our Yellow Fever Vaccination since we just arrived from Sudan. He seemed satisfied, so gave us permission to take down our yellow quarantine flag.  Somehow, it still took all day before we were handed back our passports, duly stamped with our 30 day visitor's visa. As the sun was setting, we were finally escorted to our berth on the very far side of the Marina complex, in front of the Marina Lodge Hotel.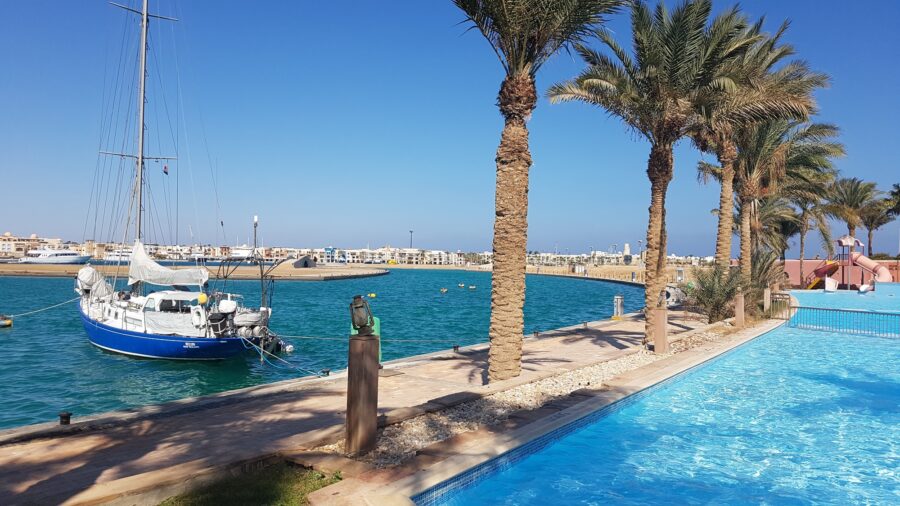 We suddenly found ourselves in a ghost town.  We were the only cruising boat here, and the hotel, immediately off our stern, has been closed since the beginning of Covid, over two years ago.  There was not a bar or restaurant open and we haven't had a chance to launch our dinghy, so no celebrating for us tonight. Anyway, we were tired and happy to stop somewhere civilized for a while.  We heard some fireworks coming from somewhere nearby, signaling the welcoming in of 2022 and that was it.
Welcome to Egypt.
 Business is slow for the tours that go out daily in the glass bottom boats and the poor shopkeepers selling souvenir bling. They are so desperate to make a sale that any passer-by is followed and harassed to come in and "look, special price just for you". To be honest whoever buys this stuff anyway?
The only tourists here now, are mostly Europeans who have booked a dive trip out on one of the many boats that are based here. They are picked up from the few hotels that are still open and will go out for either a day or a week, to see the famous dive sites of the Red Sea.
We will arrange a trip to Luxor, then refuel, reprovision and continue on our way. There is nothing here for us!
LUXOR
Our trip to Luxor was wonderful.  We had met Mustafa, a local driver who actually comes from Luxor and who will drive us the 350 km across the desert so we can relax and watch the seemingly endless sand dunes unfold around every bend, during the four hours it takes to reach Luxor. 
As we neared Luxor and the Nile River, we entered the fertile valley of Qena, where 80% of Egypt's produce is grown.  What a contrast to the desert we had been living with for so long. Here they grow everything for the local markets, and from where buyers from all over Egypt come to stock up restaurants and stores in every region.
There are huge fields of sugar cane which is processed at a nearby refinery.
Many of the fields are family-owned plots, so most of the work is still done by donkey and cart.  Produce is taken daily to the main market in Luxor and whatever is left at the end of the day is bought by stall holders of surrounding villages, up and down the Nile.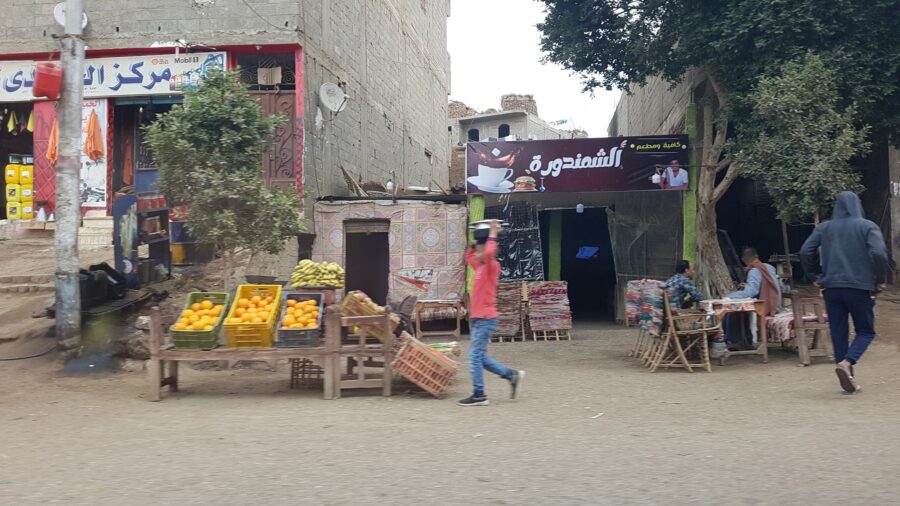 We became immersed in the famous sights of Luxor.   We had booked in to the Nefertiti Hotel, a very authentic 2-star hotel situated right next to the Luxor Temple, walking distance to Karnak Temple and the Nile River. It was perfect.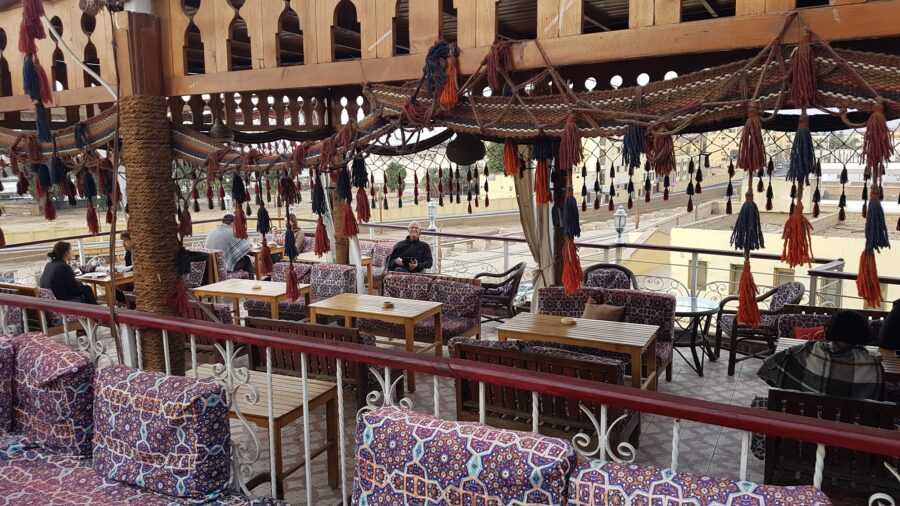 From our hotel, we walked everywhere and found that just a couple of streets back from the main tourist area, life went on as normal for the local families. There were very few tourists in Luxor at this time, which was surprising. However, since Covid, tourism numbers have dropped considerably, so it is now very difficult for most of these people to earn money. The only people who tried to hassle us here were the drivers of the horse-drawn caliches used as taxis for the tourists, but we chose to walk. We later learned that motorized taxis are not allowed in Luxor.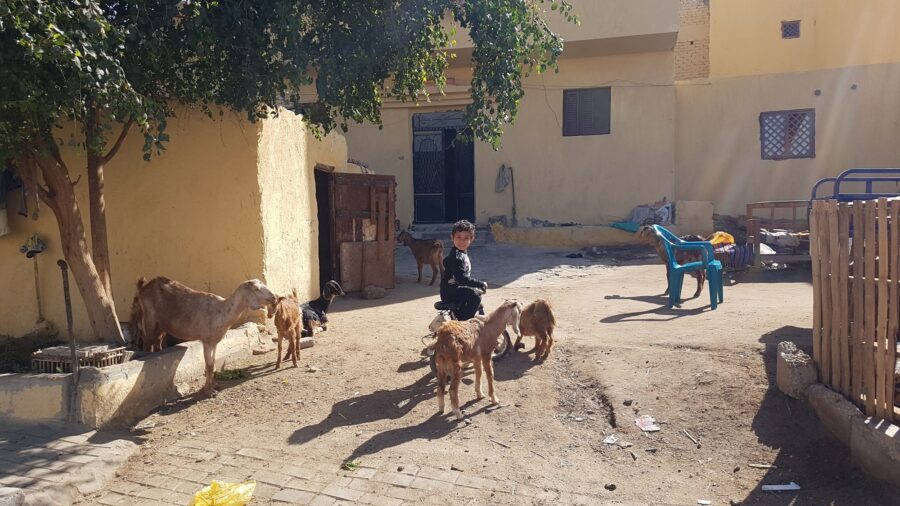 The next day, Mustafa took us around the left bank to visit the Valley of the Kings and several of the other famous sights over there.
I was so glad to finally get to visit a number of these incredible sights and was astounded to realise they are still excavating and discovering many more buried beneath the desert sands. Many of the valuable treasures are now to be found in the Museum in Cairo, but just to see the incredible paintings inside the tombs of the various Pharaohs was amazing. The enormity of these huge caverns, is mind boggling.
Mustafa then arranged for us to share a delicious lunch on a small Felucca, before dropping the lines and spending the afternoon sailing up the Nile.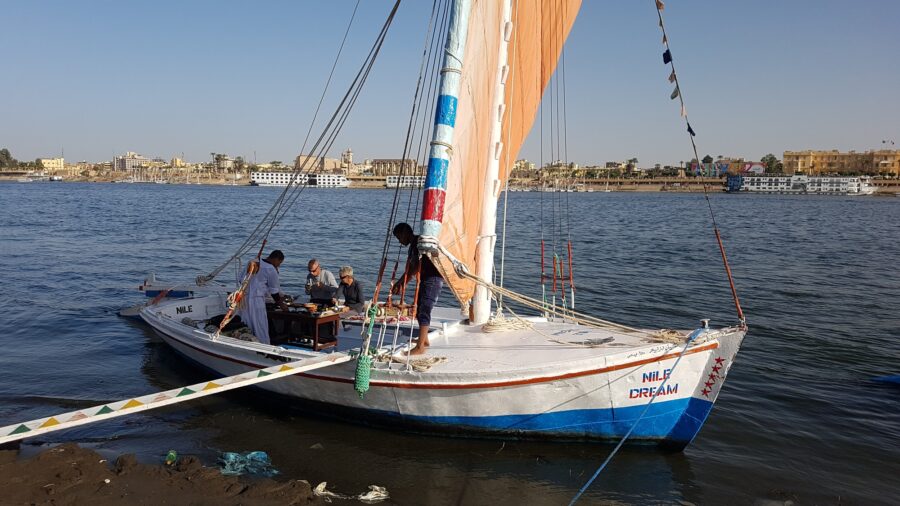 What a treat this was. It is incredible how well these boats sail even with little wind and battling the river currents. Coming back, however, we lost our wind completely, so the captain simply took up 2 floorboards and began rowing. This obviously wasn't the first time using this method to get home.
We considered extending our stay so we could visit the Aswan Dam and venture further south to Abu Simbel.  However, I had ticked off the Valley of the Kings from my bucket list and we felt it was time to get moving north again on Mai Tai.
Challenges of the Red Sea.
Sailing in the Red Sea is well known to be a real challenge, as the majority of the winds in the northern half blow incessantly from the north.  The winds are often very strong and cause a steep, nasty, breaking sea, which is not ideal conditions for motoring into.  But every few weeks we get a "window", which really means, a few days with very light or no winds at all.  This is what we wait for to make our jumps northwards towards Port Suez, and the Suez Canal. We know we will be motoring a lot of the way, and that is the reason we decided to top up our fuel here. This will be our last chance before reaching Turkey. Fuel is not currently available in Port Suez.  A few years ago, there were several places where we could stop along the way, to re-provision and refuel, but things are changing.  Cruising yachts are no longer able to do this.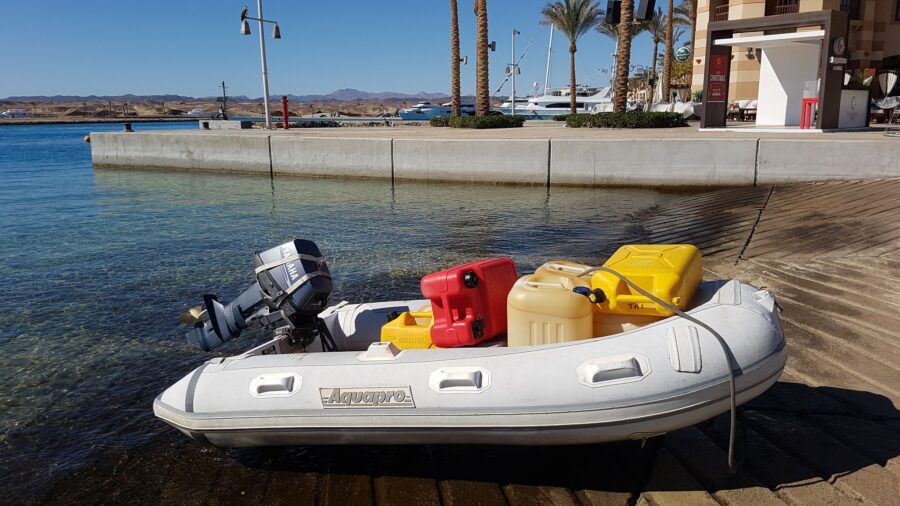 Waiting in Port Ghalib.
So, back on Mai Tai, after our wonderful trip to Luxor, we studied the weather charts carefully. These charts are 10 day predictions from our our weather program, and lo and behold, a wonderful 3 days of calm weather were predicted to be coming up. That is all we need to get up as far as Port Suez, or at least, very close. Our 30-day visa would soon be expiring but we were reassured by both Immigration and Customs that we had 2 weeks from the end date of our visas to actually leave. By catching this window, we would only be 2 days past our visa expiry date.
We made sure our agent was given plenty of notice to get all our paperwork in to the Customs and Immigration, marina fees were paid up, dinghy and outboard were stowed on deck, pantry was full, and we were ready for this next passage.  We had wanted to leave about 9 am, so we waited patiently in the cockpit, dressed in our sailing gear and ready to release the mooring lines. And we waited, and waited.  By 5pm we had still heard nothing.  It turns out that it is Coast Guard who give the final clearance to leave the port and they weren't happy because they saw that our visas had expired by 2 days. They did not acknowledge the 2 free weeks we were given by Immigration and Customs.
Anyway, by now our opportunity to catch the weather window had passed so now we had no option but to renew our visas. A few years ago, dozens of sail boats stopped by here, so you would think they would understand. But no. New rules and a new bully in town.
We were both really frustrated and very upset at being held here unnecessarily. However, we realised that there is no use trying to fight the system.  Once we leave here we will still be sailing in Egyptian waters for at least 2 or 3 weeks before we exit the Suez Canal, so we want all our papers in order.
But renewing our visas for another 30 days means a 3 hour drive to Port Hurghada to put in the application in person, a payment of $NZ 170 each, then we have to return in 10 days in person to pick them up.  New rules since January 2022.  Even our agent, Mohammed, wasn't aware of this change. What a fiasco!
Mohammed, our agent, offered to drive us to Hurghada to put in the application, then return home in the afternoon.  Great.  We arrived at the Immigration office in Hurghada, at 1000 hours only to be told they didn't do visa extensions on Saturdays and that we had to come back tomorrow.
Well, we did want to visit the city of Hurghada, so we booked into a lovely hotel for the night ready to try again tomorrow. Hurghada Marina was lovely and it is such a shame that cruising yachts are not able to stop here any more, since about 2 years ago. The business of huge luxury dive charter boats is obviously where the money is. Not the occasional penny conscious cruising yacht.
Another bit of drama.
The next day, after our visa application was successfully submitted and during our three hour drive back to Port Ghalib, we get a tire puncture. This should not have been problem, except that the driver, who spoke no English, found the spare tyre was also flat.  We were stranded in the middle of nowhere in this vast desert.  Our driver was talking-talking-talking in Arabic on his phone and  eventually a car pulled up.  Our driver grabbed the two tyres and off he drove, leaving us on the side of the road, in the car, propped up on a jack.  We didn't know what was going on or how long we would be left out there in the desert.  We laughed about the news reporting that two world sailors were found severely dehydrated on a desert road and missing a tyre from their car.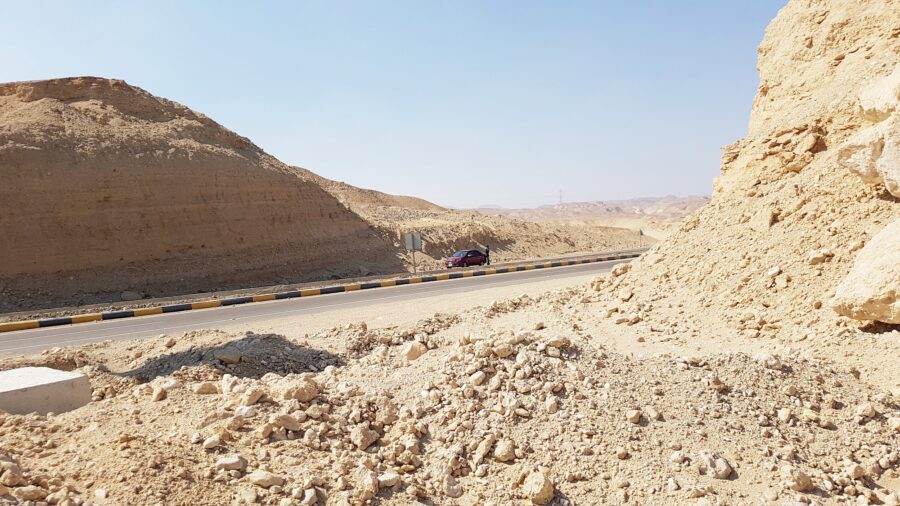 However, a couple of hours later our driver returns with the 2 tyres and some bottles of water for us, very apologetic.  He fixes the tyre and we are back on the road again. Lane and I did see the funny side of things, as I suppose we could have perished from dehydration, but all ended well and we were safely back on Mai Tai before dark.
Despite the frustrations of not being able to continue on to the Suez Canal and on to the Mediterranean, as planned, at least we are safe here and it is warmer than in the Med right now. We have also met another two cruising boats and have been able to spend some time visiting a few places around here.
Each day we go for long walks over the sand dunes, to the couple of the local shops, trying to find a desert flower along the way.
We found a sad sight, the wreck of a sailing boat, high and dry above the harbour entrance. It has been there for quite a while and I have not been able to find anything about it.
Really, we are just waiting to get our visa renewals.  There is nothing here for us!
We see a good weather window coming up next week, so let's hope we will be able to set off and that our next blog will be showing you all about our passage through the Suez Canal.