With Christmas behind us, we will soon be entering 2023 and looking forward to our onward adventures, sailing west towards Gibraltar and the Atlantic Ocean. But for now, we will stay here, waiting for the winter weather to pass.
Many of the cruisers here, fly home for Christmas, leaving their boats, safely moored in the Finike marina. But those of us who stayed behind enjoyed a fun Christmas dinner of roast turkey and lamb with all the trimmings of stuffing, mint sauce and gravy. We had a local butcher cook all the meat and deliver it to us, piping hot, and they even stayed to serve it. We each supplied a vegetable dish.

So far, apart from an early snow fall on the nearby hills, and a nasty rain storm causing severe flooding, the weather has been beautiful. We have had mostly cool days with clear blue skies. The snow around us has almost all melted now, but I am sure there will be a lot more to come before the winter is over.
We have set up a Finike hiking group, and together we explore a little further afield, often trekking more of the Lycian Way which runs for 500 kms along the coast. We walk about 18 to 20 kms, stopping along the way for breakfast or lunch and a cup of local tea (Cai).
There are many beautiful anchorages about 20nms away from here, so before the winter really set in, we decided to sail Mai Tai to explore Kekova, Kalekoy and Ucagiz. Unfortunately, we didn't get much sailing in, as the winds were very light, but we enjoyed being away from the Marina and exploring the different coastal landscapes, topped with castles, and old forts, all begging us to go further.
We found ourselves almost alone in some of these beautiful protected anchorages, lovely seaside cafes, which at this time of the year are free of the usual masses of tourists and charter boats that flock here every summer.
Istanbul.
Another destination on our Turkey bucket list, was Istanbul. So we took a flight from Antalya, rather than drive the 9+ hrs, and we certainly were not keen on driving in the traffic within this huge city of Istanbul.
I visited Istanbul, as part of my overland trip back home to NZ, back in 1974 when the population was just 2.8 million. It was all very exciting then, and I can still remember the crowds, the Medinas and amazing treasures in the Blue Mosque. Today, there are 15.6million, making it the 7th biggest city in the world. It is now much bigger and busier, of course, but is still a interesting and vibrant city filled with the charm of the Turkish people and a melting pot of European and Middle Eastern peoples.
We did get the hang of the new, very efficient tram, bus and metro systems, but we also found so many wonderful areas by just walking everywhere. We soon fell in love with this richly, diverse city.

Our days were filled visiting the major tourist attractions including the Topkapi Palace, the Hagia Sophia, the Blue Mosque, Museums, Christian churches, and the Basilica Cisterns. Visiting Istanbul in winter is ideal as there were very few tourists, so no long lines or crowds to contend with anywhere.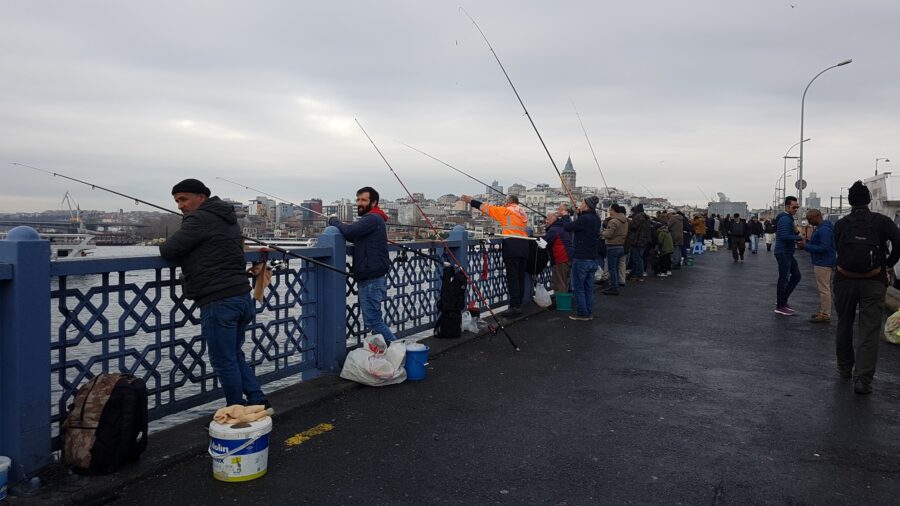 Lane and I took an afternoon cruise up the Bosphorus Strait, which is a very important and busy shipping channel. It is a natural strait, 31 kms long, that links the Black Sea with the Marmara Sea and eventually the Dardanelles to the Mediterranean and the world's oceans. The Bosphorus runs through the middle of Istanbul separating
Asian Istanbul from European Istanbul, although they form the same city.
There are 3 magnificent suspension bridges that span the Bosphorus, the first one opened in October 1973. Car ferries were the only way across before 1973.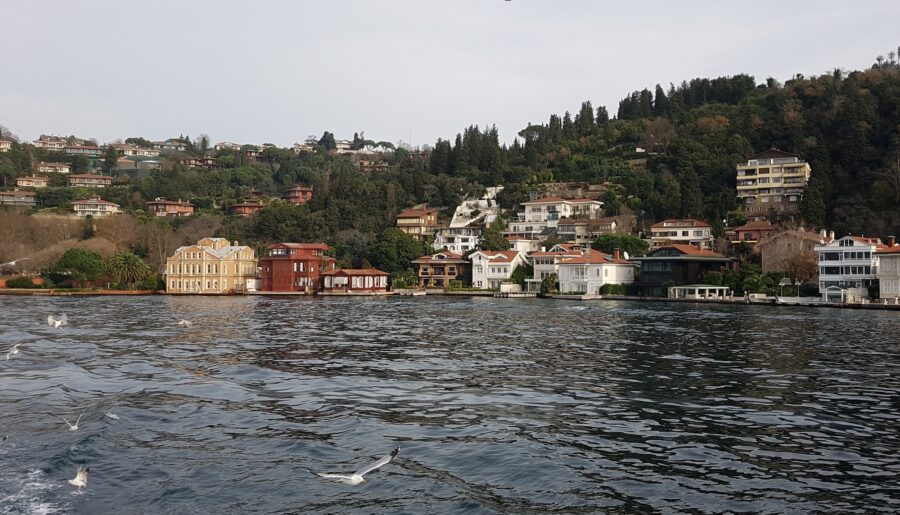 The number of fishing villages along the shore, that I remember, seem to have been replaced by a variety of architecture from huge mansions with their superyachts parked outside, to modest villages backed by modern apartment blocks.
It was freezing cold and raining on the first day in Istanbul, so a visit to the National Naval Museum was a perfect way to stay dry and warm. This museum was established in 1897 and contains an important collection of military artefacts pertaining to the Ottoman Navy. The Museum was huge and impressive, but here are just a few photos of what we saw.
Gallipoli.
I have always wanted to visit Gallipoli, which plays a very important role in the History of the First World War. wanted to get a better understanding of the geography of this region where New Zealand lost so many young men.

We rented a car from the Istanbul airport to drive the 350 kms south to Canakkale.
It was a beautiful drive, across another impressive suspension bridge, to a modern highway that ran along the southern shores of the Sea of Marmara.

We had arranged to meet with a local guide in Eceabat, to drive us to many of the cemeteries and important sites of the Gallipoli Peninsula. Anil, our guide, was born here and was very knowledgeable and passionate about the history of this region. Like many of the Turkish people here, he loves and respect New Zealanders and Australians.
In 1915, the Australia and New Zealand Army Corps (ANZACs) joined forces with the Allied Troops to take Istanbul in order to control access to the Black Sea. This was known as the Gallipoli Campaign. To succeed, they needed to take control of the Dardanelles to allow Allied ships to pass through the narrow channel to Constantinople (now Istanbul).
The Gallipoli Campaign is also known as the Battle of Canakkale, or the Dardanelles Campaign.
At dawn on the 25th April 1915, ANZAC Troops were dropped ashore at what is now known as Anzac Cove. Unfortunately, during their night approach, they didn't realise that the current had taken them1.6 miles north of their intended landing beach. No GPS in those days!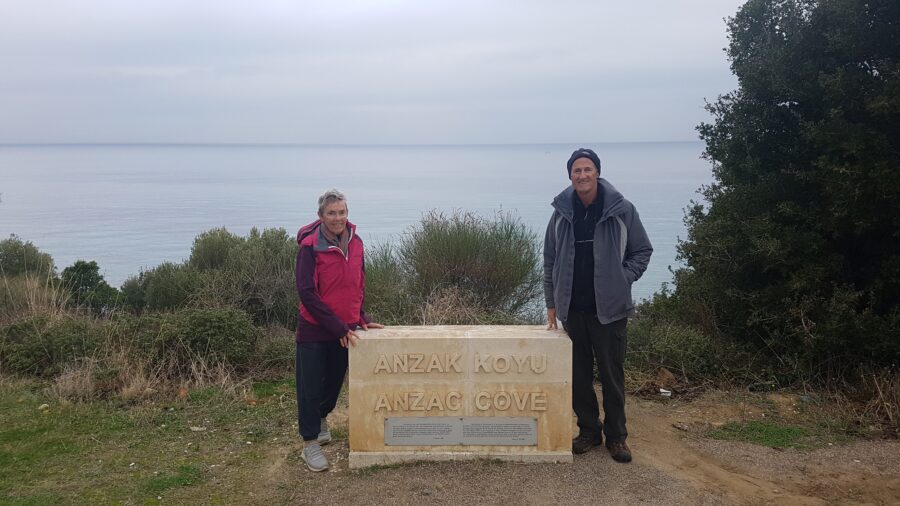 The terrain where they ended up landing was steep and covered in scrub and the Turkish soldiers were watching them come ashore from high on the cliffs above.
Heavy fighting took place and by the end of the first day, already there were thousands of dead or wounded. After over 10 months of fighting, thousands of both Turkish and Allied soldiers' lives were lost, needlessly!
History has shown that this Allied campaign failed and the Turkish people won and kept control of the Dardanelles.
What was very moving about this visit was to see how the Turkish people have honoured those who gave their lives by nurturing cemeteries scattered around the peninsula. 36,000 Commonwealth servicemen died, and 86,000 Turkish soldiers died defending Gallipoli. There are 52 cemeteries for the fallen soldiers, situated around the Gallipoli Peninsula, all kept beautifully manicured.

A moving poem written by Mustafa Kemal Ataturk, (President of Turkey from 1923 to 1938) says so much about the feelings of the Turkish people.
This was a very moving visit which left me so much more enlightened about what happened here.
We drove back to Istanbul to take our flight back to Antalya and back to Mai Tai, in Finike.
(Note) If you are interested in more information about our boat, Mai Tai, click on "Sailing the World in a Classic Cutter (1963)" – from the top of the front page of this site.