I can't believe that it was just over 1 month ago that we were in Egypt, half way through the Suez Canal, waiting for a window of favourable winds, to sail up to our next destination in Turkey. But here we are.
The Suez Canal, officially opened in 1869, is one of the most heavily used shipping routes of the world and it was quite exciting to be here on Mai Tai.  On the 16th of March, as the sun was coming up over the horizon in Ismailia, we set off to motor the last 40 miles of the Suez Canal, to Port Said.
On the way, we passed the El Ferdan Railway bridge which was the longest swing bridge in the world.  At the moment it is not working as they are extending this bridge to cross the second canal to the east.  When working, it remains open most of the time and closes during the passage of trains.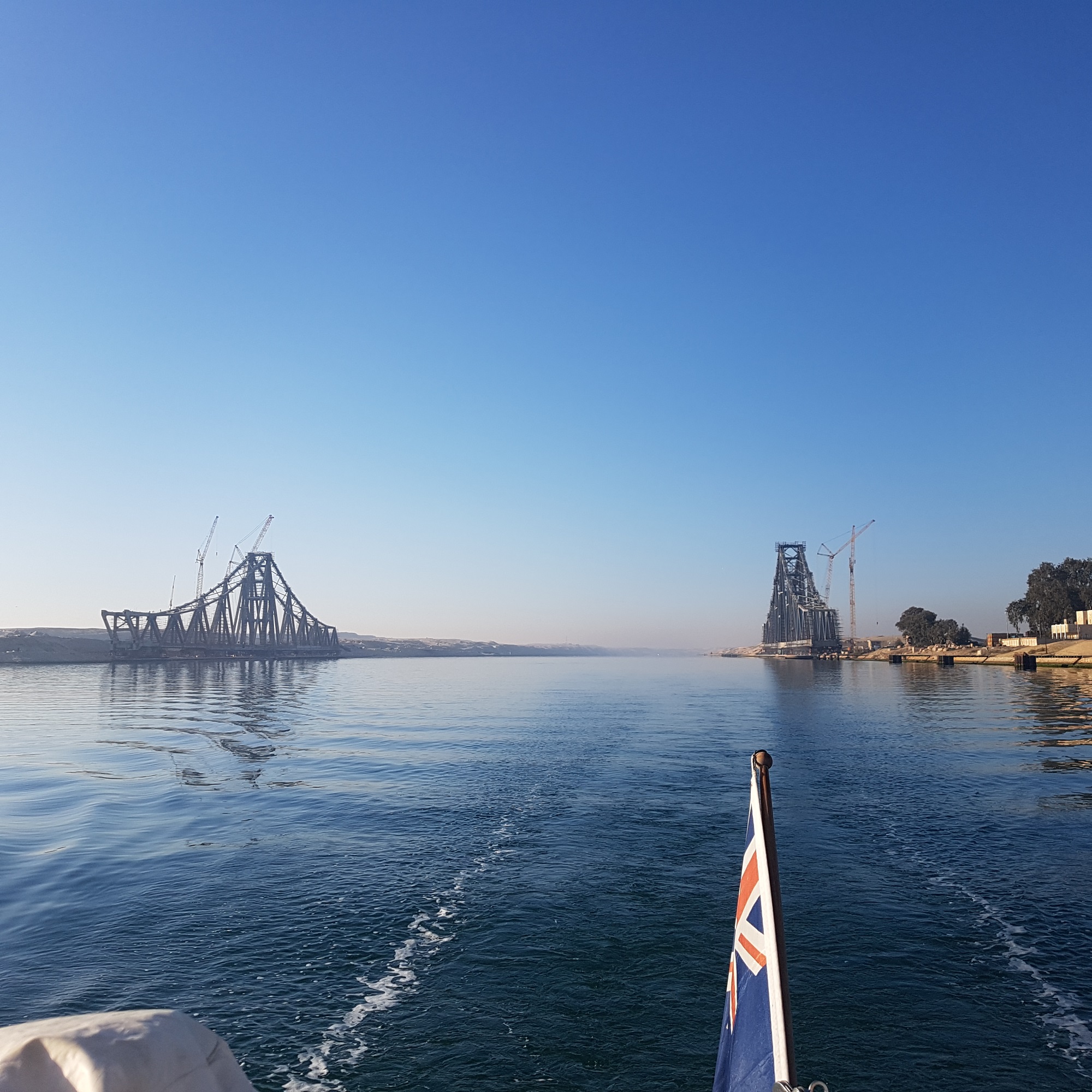 Further up the Canal we passed under the beautiful Al Salam Peace Bridge (or Mubarak Peace Bridge), a road bridge which links Africa with Eurasia. This bridge, which opened in 2001, is 3.9 kms long and is 70m high, just enough to allow the passage of the heavily laden container ships. And us.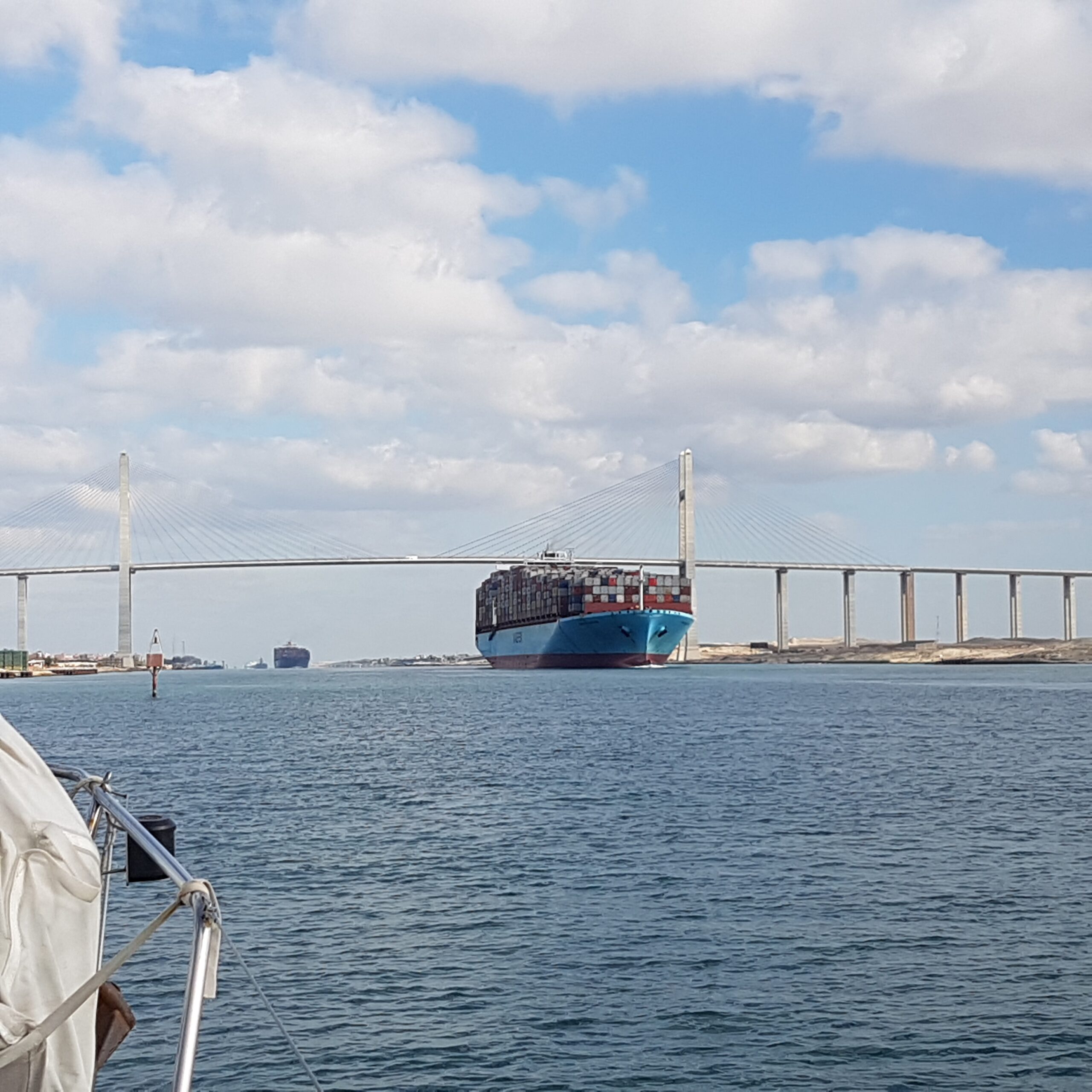 We dropped off our pilot at Port Said and continued our passage northwards to Finike in Turkey, where we have booked a marina berth.  Once we left Port Said there was a huge amount of ship traffic heading to and from the Suez Canal, but after we got clear of that, we enjoyed 2 days of pleasant but freezing cold sailing conditions.
We took a new look at the weather prediction on Predict Wind, which showed very strong winds blowing from the north coming soon, right on our nose as usual! So we decided to sail to Cyprus and wait there before continuing northwards to Finike.
Anyway, I was keen to visit Cyprus, as I have such wonderful memories of my time there working as a nurse, way back in 1972. Unfortunately, I wasn't able to visit my old clinic in Kyrenia, where I worked with a Greek doctor, as after the coup d'état in 1974, this part of Cyprus has come under Turkish rule.  I know that much has changed since those days with big modern marinas having been built along the coast.  We chose to stop in the small fishing village of Paphos on the western end of the Cyprus, which I also remember well.
Cyprus appeared on the horizon on the morning of our 3rd day at sea, with the Old Fort of Paphos visible from a distance.  Paphos is a port of entry into Cyprus, so once we have been cleared in by Customs and Immigration, we were keen to go exploring.
The Fort of Paphos, built by the Ottomans, dates back to the Roman Empire, when it was the island's capital.
I still recognised much of the old Paphos as it was, without too many big tourist hotels around the bay.
Behind the town are the ruins of the old city which date back to the Roman period. Many mosaics, which are still so beautifully preserved, are visible throughout the old ruins. These cultural treasures are included in UNESCO's list of World Cultural Heritage Sites.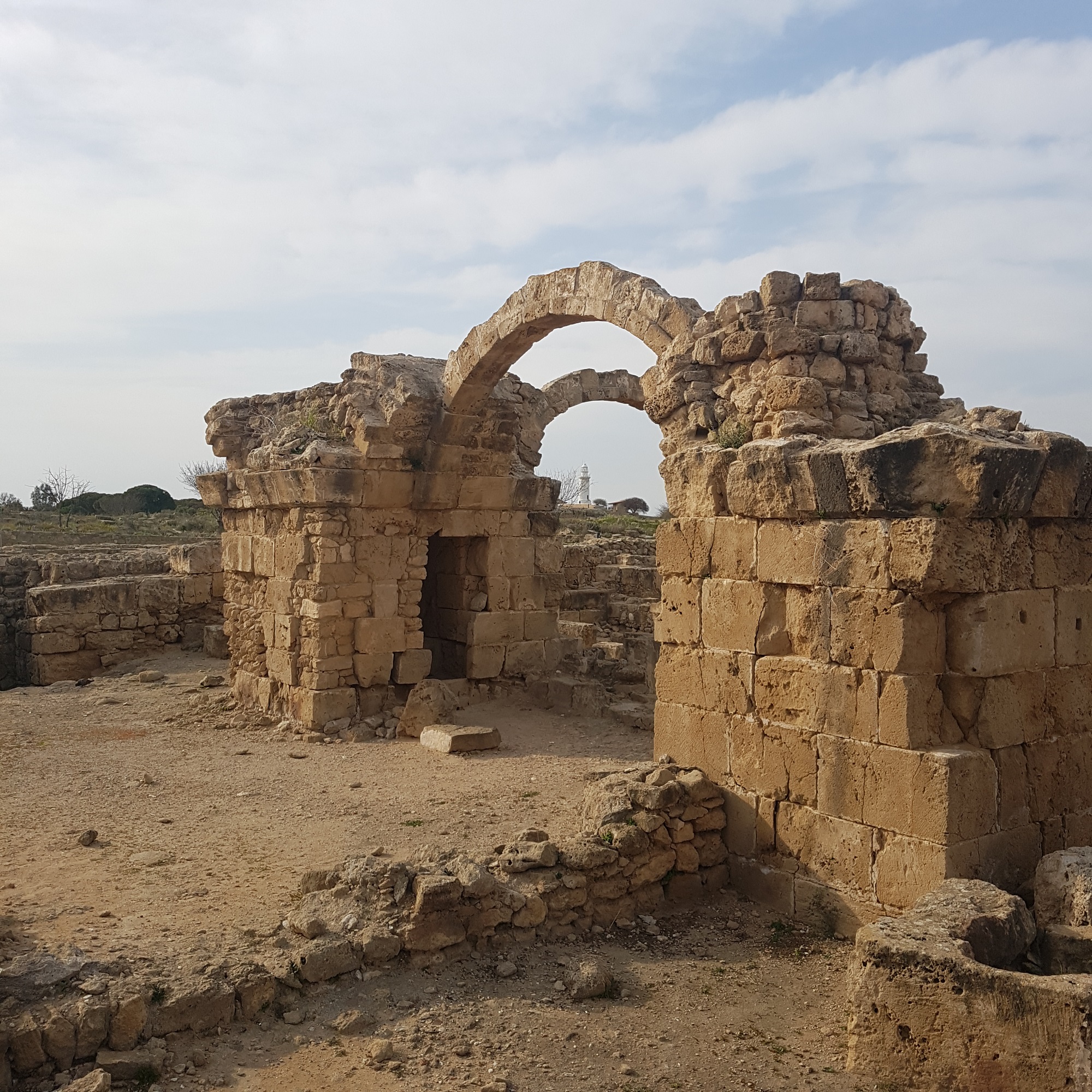 The 13th Century Church of Panagia Chrysopolitissa stands amid ruins of a colossal Christian Basilica. We visited on a Sunday when service was being held. The exterior of the church belies the beautiful rich interior.
As the strong winds settled, we set sail for Turkey, 140 miles away. Once again, we had ominous clouds overhead, and as we approached the coast of Turkey, we could see a thick layer of snow on the mountains, explaining why it was so bitterly cold.
We had booked into the marina of Finike, which is very popular with long term cruisers for leaving their boats safely when they travel home, or simply live aboard long term.  The marina looked crowded and as we got to explore further, we understood why this place was so popular. Clean modern facilities, laundry, hot showers, free water and electricity and a supermarket just across the street.
We immediately felt at home and loved being a part of the cruising family again. Everyone is busy on their boats getting ready to move on to one of the hundreds of stunning destinations nearby, but the weekly happy hour groups, weekly BBQs, walking groups, keep fit and Pilates classes, are the times for relaxing and catching up with the neighbours.
Every Saturday we enjoy the beautiful 20 min walk to the huge fresh food market, trying out some delicious Turkish treats for lunch. It is spring, so the walkway along the waterfront is particularly beautiful.
Snow is still on the surrounding mountains, and recently we had several days when the Sahara sands filled the air to blanket any of our usual views. Not to mention the dust that gets into everything on board.
A few of us have enjoyed long hikes up into the surrounding hills and a cycle ride to Limyra, some old ruins, dating back to Roman times.
So where to from here?  We need to do some work on Mai Tai while we are here, so it will be a few weeks before we are ready to go exploring this amazing coastline. Hopefully the weather will be warmer by then.
Meanwhile I have decided to fly home to New Zealand to visit friends and family, which I am very excited about.  I will be back at the beginning of July with a case full of goodies plus bits and pieces of boat bits from NZ and we will be able to enjoy the cruising season right up through October and November.
We feel very fortunate to be here and are, of course, watching the Ukrainian situation very closely. The Turkish people are very warm, friendly, honest and very helpful. Getting boat parts is not simple but with so many cruisers here, somehow we find a solution for most things even if it means flying to the UK to pick up packages, which Lane may have to do while I am away in NZ.